You don't have to be tech savvy to master the art of email marketing. All you have to do is choose the right email template among the 20+ ready-made email templates of our gallery and start making some noise on your audience's inbox.
Whether you are looking to launch a new product or to inform about your upcoming promotions, you will lose no time creating a template from scratch. We have prepared more than 20 email templates that fit every message and any occasion, so all you have to do is choose the right one, right away!
A temple of ready-made email templates 
Our ready-made email templates trigger inspiration for even more communication, effectiveness and openness to your target group. Apart from the attractive layouts, the colour combinations, fonts, schemes and images, it remains extremely easy to use the drag 'n' drop email builder and customize the email template according to your needs. And there is even more; all of our ready-made email templates are mobile-ready so they can't get stretched in any mobile device while also are fully tested for all email clients.
Name your goal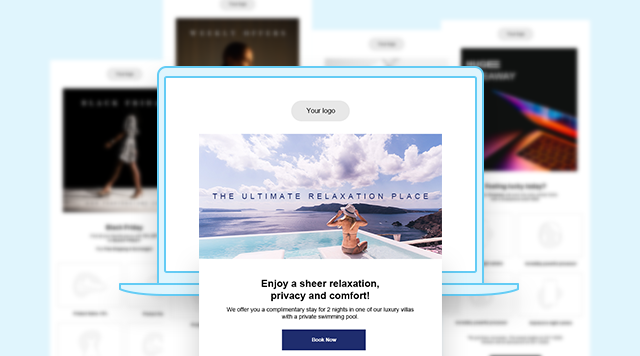 With our new ready-made email templates, you can take advantage of every occasion and satisfy any of your business goals. You can connect with your audience through a personalized email newsletter and send wishes on their birthdays, name days, the New Year's Eve and other national holidays. You can let them know about your discounts, special offers and giveaways. You can also send reminders for upcoming events and promos.
Wait no more. Get to know Apifon's ready-made email templates right away. Customize once, use again and again!