Valentine's Day is just around the corner, and that means it's time to get your campaigns ready and showcase your love and appreciation for your customers! 
And one of the best ways to do this is by using business messaging channels such as SMS, email, and Viber to promote your V-day campaigns.
So, whether you're planning a big event or just want to send out some simple emails to your customers you'll find everything you need to get your campaigns off the ground in this Valentine's Day marketing resource kit!
This kit includes SMS & Viber message ideas and tips, ready to use email templates, and free stock photos that you can use to make your campaigns stand out. The purpose of these resources is to help you create beautiful and engaging Valentine's Day campaigns, able to reach your target audience and drive sales during this busy season.
Email Templates: Pre-written, customizable email templates to help you send targeted and personalized marketing messages to your customer base.
SMS & Viber Message Ideas: Short, attention-grabbing text ideas and expert tips that you can use to promote your products and services to customers.
Free Stock Photos: High-quality, royalty-free images that you can use in your marketing materials to create visually appealing advertisements, social media posts, and other promotional content.
And don't worry – even if your customers aren't into Valentine's Day, they'll love your messages anyway!
So, let's get started!
Easy And Ready-To-Go Email Templates for Your Campaigns
Valentine's Day is a great opportunity for businesses to connect with their customers and show them some love. Email marketing is one the most powerful tools that can help businesses reach their target audience and promote products or services in a creative and effective way.
Expert tips for Creating a Successful Valentine's Day Email Campaign

Personalize your emails.
Segment your email list and personalize the messages based on past purchases, interests and other customer data. Use your subscribers' first names or other personal information to make the emails feel more genuine.
Make the subject line count.
Make sure your subject line is catchy and relevant, so your subscribers will be more likely to open your email.
Offer special promotions or discounts.
Everyone loves a good deal, so consider offering a special promotion or discount for Valentine's Day.
Use visuals that match your brand.
Use images or graphics that align with your brand's aesthetic to create a consistent and recognizable look.
Test your emails before sending.
Make sure to test your emails before sending them to ensure that they look and function as intended.
Ready-to-Use Valentine's Day Email Templates
"Loving Surprises" template
This template is designed to promote products or services that are perfect for showing love to a significant other or loved one.

 

"Love is in the Air" template
This template features romantic visuals and language to create a festive and romantic atmosphere.

 

"Celebrate with Love Deals" template
This template is perfect for promoting a Valentine's Day sale or special promotion.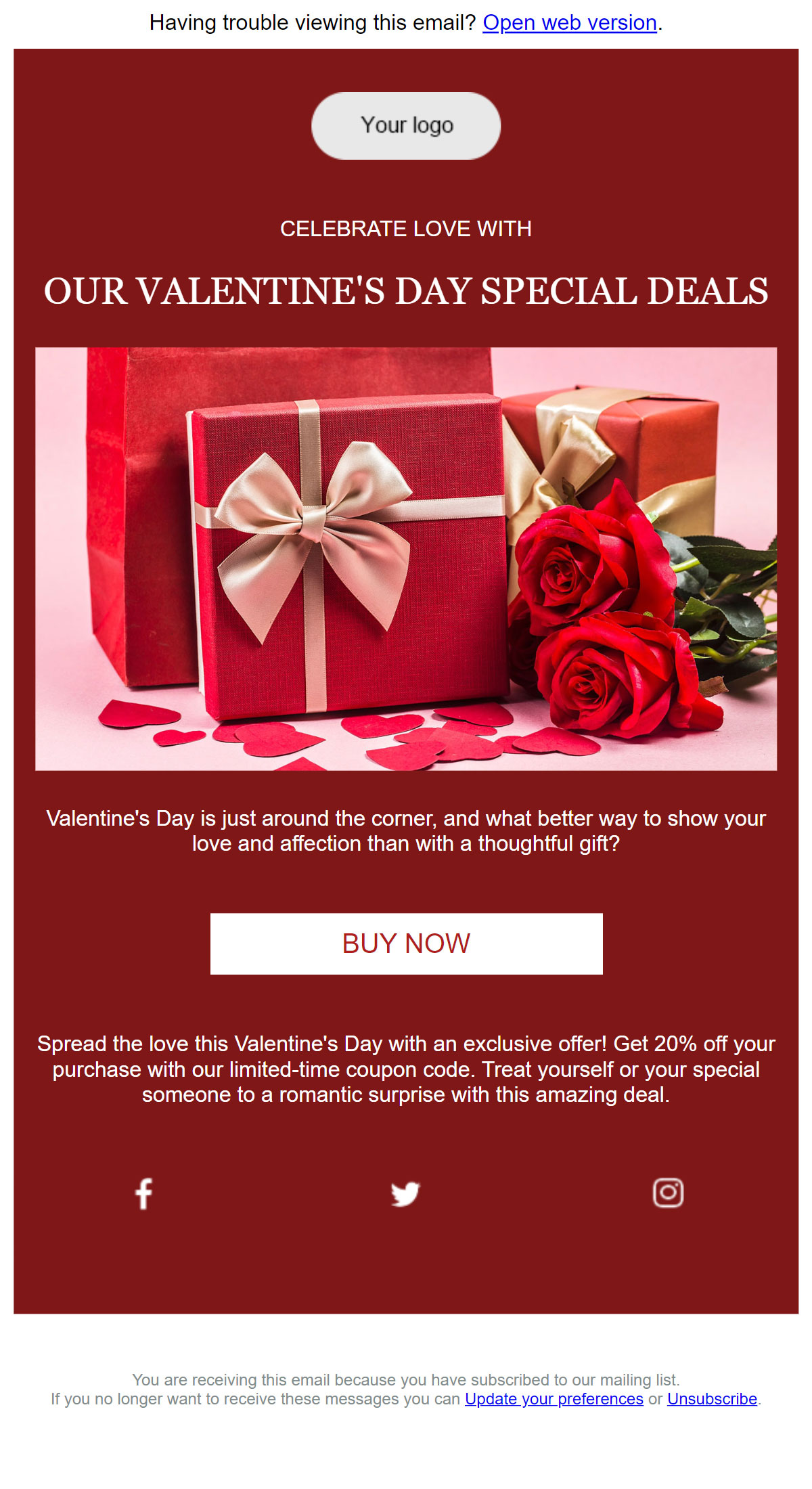 "Self-Care Love" template
This template features visually appealing images, paired with sweet and loving language, to create a festive and romantic atmosphere that will resonate with your audience.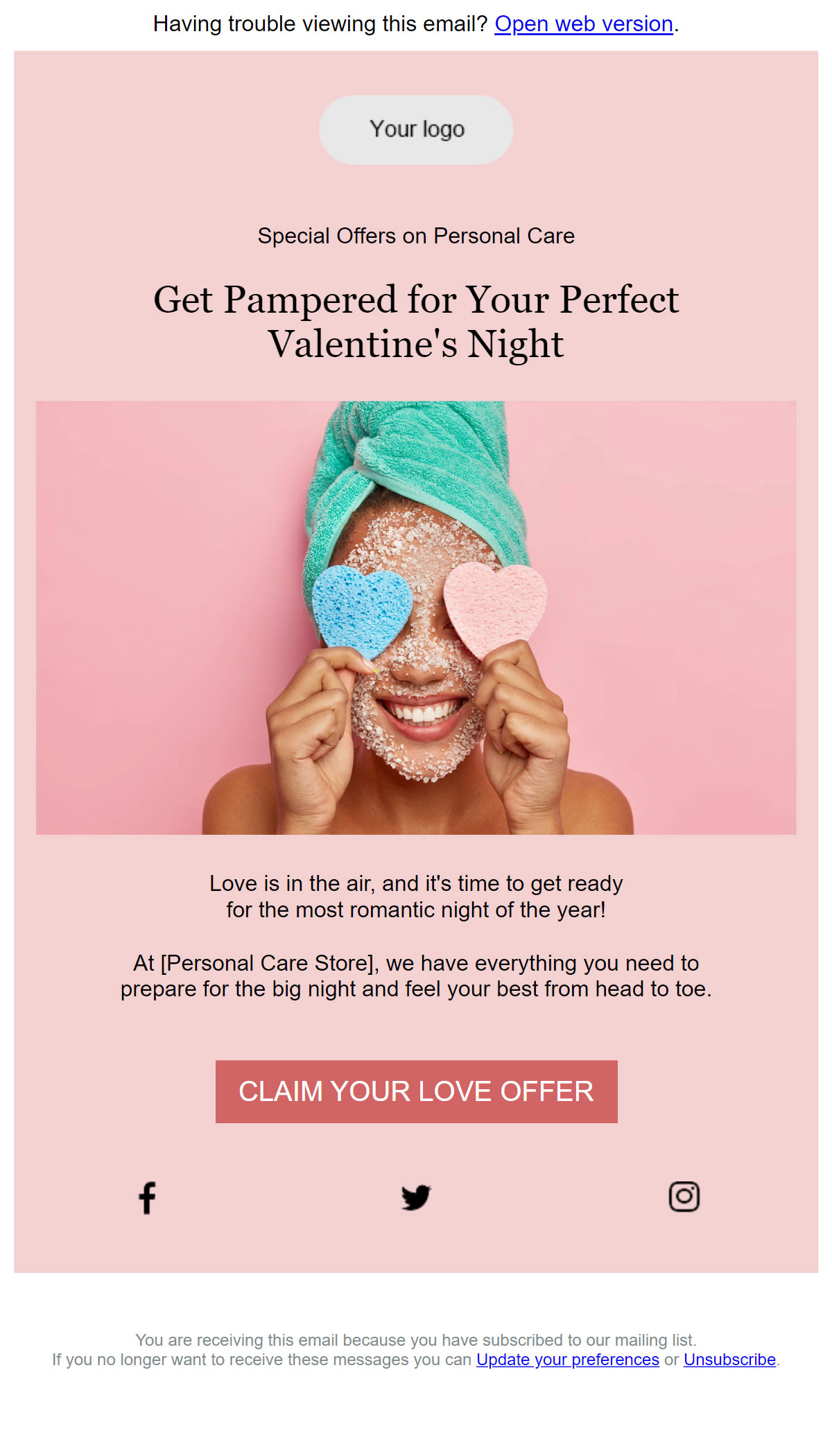 To use these templates, simply customize the text, images, color scheme and other elements to fit your brand's style. You can also add your own personal touches to make the emails truly unique. Start your Valentine's email campaign with Apifon's platform here. 
Creative Valentine's Day Email Subject Lines
"Love is in the air: Valentine's Day Gifts for Your Sweetheart."
"Celebrate Love with Our Exclusive Valentine's Day Offers"
"Show Your Affection: The Perfect Gift Awaits"
"Sweeten Your Valentine's Day: Shop Now and Save"
"Fall in Love with Our Valentine's Day Deals"
"Roses are Red, Violets are Blue, Shop Our Valentine's Day Sale for You!"
"Be My Valentine: A Gift for You and Me"
"Love is a Gift, Give it Today."
"From Our Heart to Yours: Valentine's Day Specials"
"You're My Love, You're My Life: A Valentine's Day Gift Guide"
Start Celebrating Valentine's Day with SMS & Viber messages.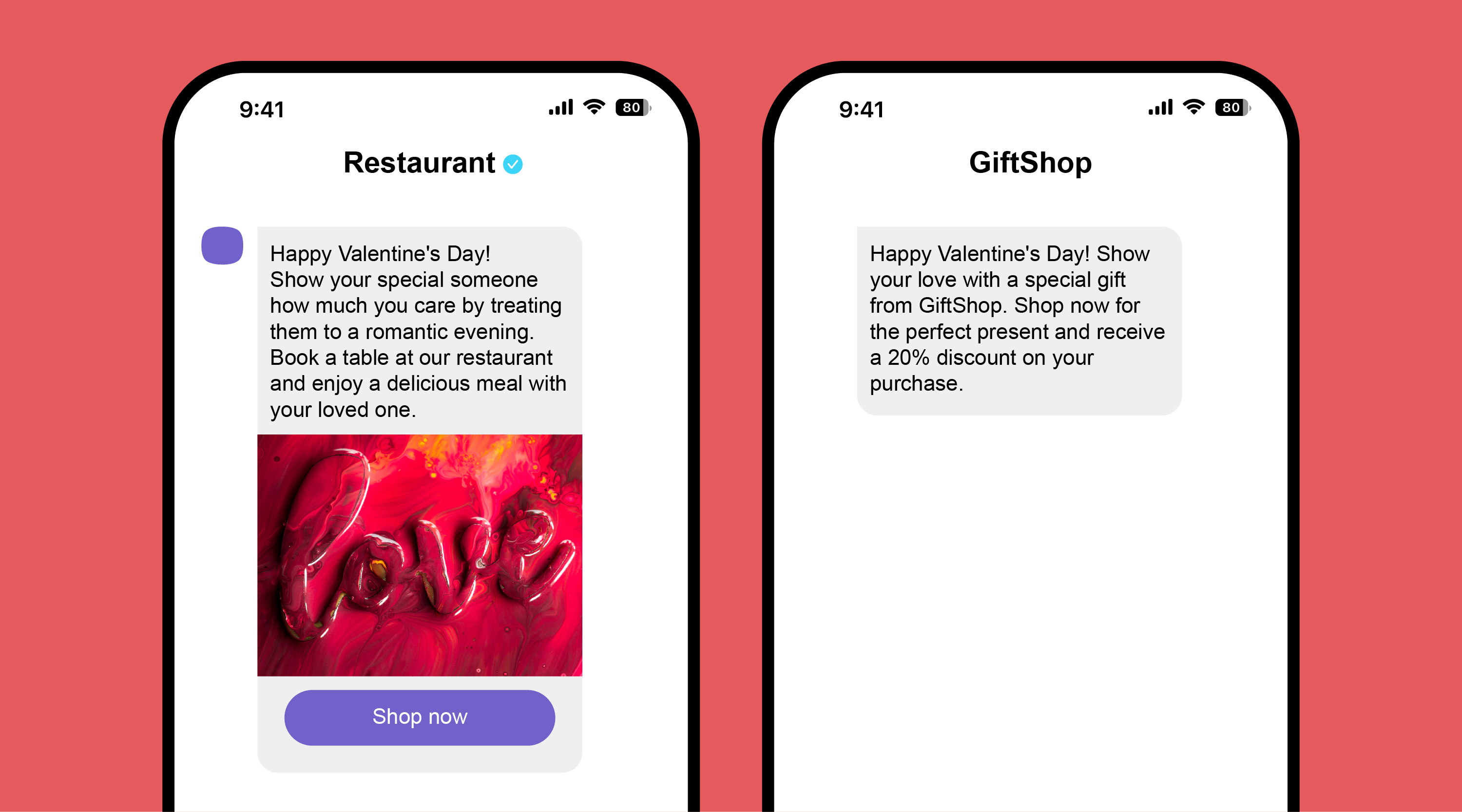 SMS and Viber messaging is a great way to reach customers on their mobile devices, and particularly effective for Valentine's Day and here is why:
- It's quick, easy, and less expensive to send out messages 
- People typically read messages faster than emails, so your message will have a higher chance of being seen and responded to.
- Viber and SMS messaging ensure your message reaches your customers directly on their mobile devices and through the apps they use for personal communication. This helps connect with your audience on an intimate level which can build a strong bond between you and your customers. 
- On Viber, you can add design elements such as images, videos and emojis to improve the look and feel of your campaigns. This will help them stand out from the competition and make them more engaged.
Need some creative campaign ideas?
Romantic coupons
Offer special discounts or promotions to your customers on Valentine's Day. This can be a great way to incentivize customers to make a purchase, and it also shows that you're thinking of them on this special day.
Personalized messages
Send your customers a personalized message that includes their name and a romantic quote or message. This will help to make the message feel more personal and memorable.
Quizzes and games
Create a fun quiz or game that your customers can play through SMS or Viber. This can be a great way to engage your customers and get them thinking about your brand on Valentine's Day.
What about some quick and easy tips?
Keep it simple: SMS and Viber messages should be short and to the point, so make sure your copy is concise and easy to read.
Be creative: Use playful language and interesting visuals to make your message stand out from the crowd.
Be timely: Timing is everything when it comes to Viber and SMS messaging, so make sure your messages are sent at the right time for maximum impact. -– don't bombard recipients with too many messages at once in order not to overwhelm them! Instead, choose a few key dates during the month leading up to Valentine's Day and focus all your energy there instead!
Use a call to action: Encourage your customers to act by including a clear call to action in your SMS and Viber messages.
And some copy? (Yeah, we know, you can thank us later!) 
Viber Messaging Ideas
"Spread the love this Valentine's Day with our special offers! ❤️❤️❤️ Get in touch now to surprise your loved one with a unique gift."
"❤️❤️❤️ Love is in the air and we're here to help you make it extra special this Valentine's Day! Book now for a romantic dinner, spa day or a surprise date."
"❤️❤️❤️ Say 'I Love You' like never before this Valentine's Day with a customized gift basket! Get in touch to create the perfect gift for your special someone."
"❤️❤️❤️ Looking for the perfect Valentine's Day gift? Treat your loved one to a relaxing staycation or a romantic getaway. Book now for the ultimate gift of love!"
"❤️❤️❤️ Make this Valentine's Day unforgettable with our range of special packages and deals. Get in touch now to plan the perfect surprise for your special someone!"
SMS Messaging Ideas
"Happy Valentine's Day! Show your love with our special deals and gifts. Shop now and make this day unforgettable! ❤️"
"Love is in the air! Celebrate with us on Valentine's Day and enjoy our romantic offers. Treat your loved one to something special! ❤️"
"This Valentine's Day, surprise your special someone with a thoughtful gesture. Shop our exclusive gifts and make memories that last a lifetime! ❤️"
"Looking for the perfect Valentine's Day gift? Look no further! Our collection of romantic gifts is sure to make your loved one feel special. ❤️"
"Say "I love you" in the most unique way possible with our Valentine's Day limited time offers! Shop now and make this day unforgettable! ❤️"
Not sure which channel to choose? No problem, you can have them all! Try Apifon's Campaign Failover to help you reach your customers through their favorite channel and make sure your message is delivered.
Beautiful Stock Photos to Get You in The Mood!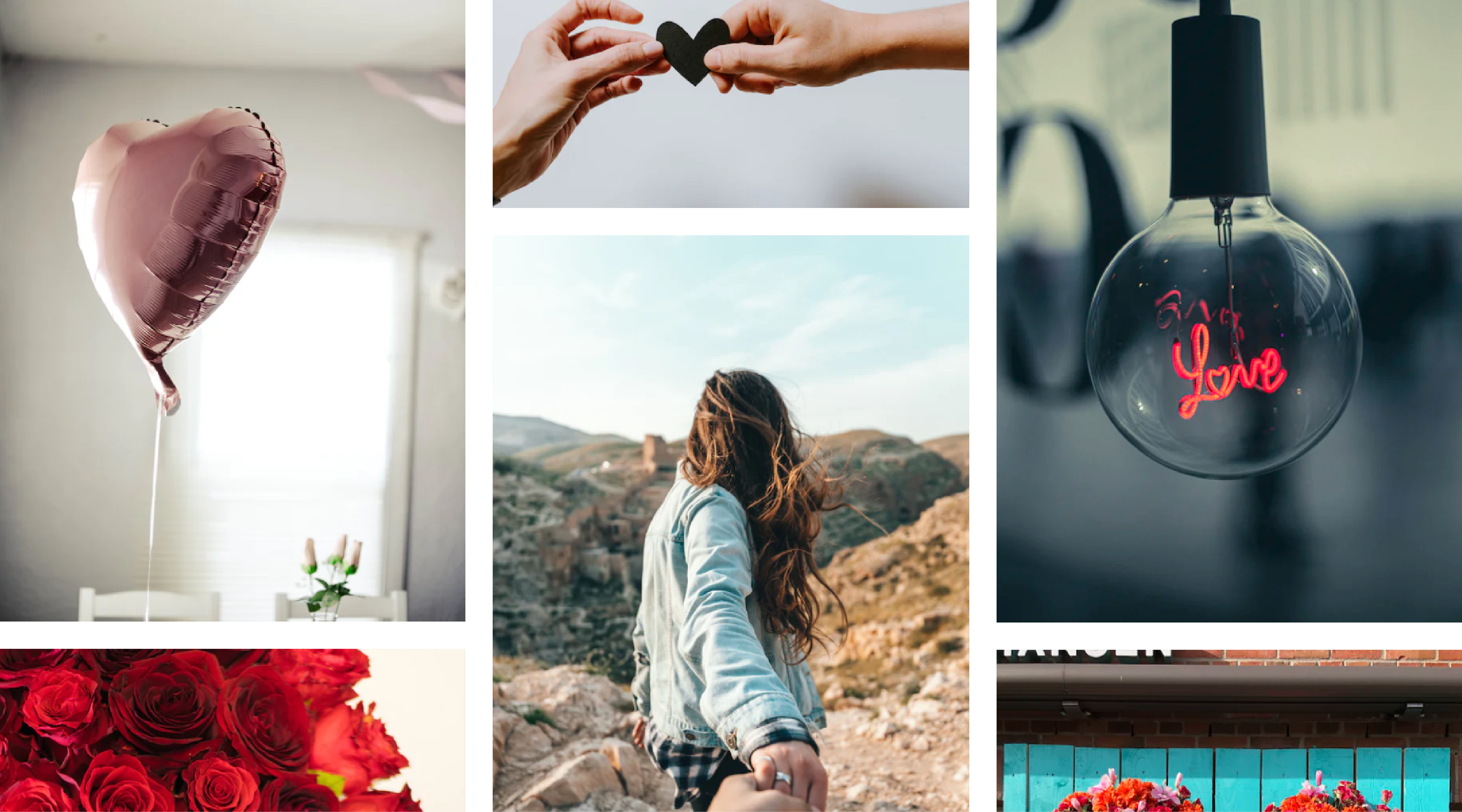 A key element to making a successful marketing Valentine's Day campaign is having the right visuals.
There are many websites offering free stock photos, such as Unsplash, Pexels and StockSnap. These sites offer a wide range of Valentine's Day-themed photos, including images of couples, hearts, chocolates, flowers, and more. By using these free stock photos, you can save time and money while creating visually appealing marketing materials.
Tips for Using Stock Photos Effectively in Your Marketing Materials
When it comes to choosing the right stock photos for your needs, there are a few things that you need to keep in mind.
-Consider the type of image that you're looking for. For example, would you like a photo of people or products?
-Think about how you want the image to look on your website or email campaign. Will it be used as part of an article or email template? Will it be used as part of a social media post? 
-Make sure that you license rights from the photographer.
-Choose high-quality images. High-quality images will help your marketing materials look professional and polished.
-Select images that align with your brand's messaging and aesthetic.
-Avoid clichéd images. While it's tempting to use clichéd images, try to be creative and find unique visuals that stand out.
-Modify the images to fit your brand: You can modify the images by adding text, changing the colors, or cropping them to fit your brand's style with easy to use tools like Canva.
No time to search for the right ones? Visit our Unsplash Valentine's Day collection!  
Valentine's Day is the perfect opportunity to show your customers some love and appreciation. With the help of our Valentine's Day resource kit, you have all the tools you need to create beautiful, engaging campaigns that will make your customers feel special. From SMS and Viber messaging ideas, email templates, and free stock photos, you now have everything you need to ensure your campaigns stand out this Valentine's Day. 
Don't wait any longer!